***WINNER PICKED 5/12 WITH RANDOM.ORG***

***CONGRATULATIONS,

#1

(

when does that ever happen?!

) Donna!!!***

her comment...


This sounds wonderful and pretty!
When Roo has a new stuffed animal or doll, inevitably it is christened with some sort of combination of the words sparkle, heart, flower, or clementine. I am not sure how these monikers were burned into her psyche, but every single new addition to our household is named SparkleFlower or HeartSparkle or ClementineSparkleHeart. So when I was asked to review a new line of all-natural beauty products for girls called
Sparklehearts
, it seemed like destiny.
Sparklehearts
is committed to providing the glamor and glitz girls want in hair and body care while maintaining a healthy environment. Their products are 99.6% natural, featuring ingredients like essential oils, violet extract, coconut, shea butter, and green tea extract, and feature a signature fragrance reminiscent of sweet treats. Unlike most products marketed toward young girls,
Sparklehearts
contain no artificial fragrances or colors, parabens, phthalates or sulfates. They are never tested on animals and their packaging is made from 100% post-consumer recycled materials. There are currently five products in the
Sparklehearts
collection:
Shine Shampoo
,
Rainbow Soft Conditioner
,
Peace Out No Knots Hair Detangler
,
Bubbling Blooms Body Wash
and
Sweet Hearts Sparkly Body Lotion
.
We tried the
Shine Shampoo
and
Rainbow Soft Conditioner
. Roo loved the cool graphics and pink pumps on the bottles. As soon as she saw them, she knew they were for her. And once she smelled them, she was totally sold! I'm a little bit harder to convince, since I am the one who has to deal with her sensitive skin. I wanted to make sure that
Sparklehearts
was as natural and gentle as they say, while also cleaning her playground grime-encrusted hair effectively. It passed with flying colors on both, and Roo loves having hair products that are for her own personal use. We combed her hair and let it air dry with no additional styling products. Check out the shine on that moptop!
Get 20% off any purchase at Sparklehearts by entering code

BLOG20

at checkout. You can also join Sparklehearts on Facebook!
To enter and win one Sparklehearts product of your choice (we're dying to try the Sweet Hearts Sparkly Body Lotion because it features natural mica for extra sparkliness!), please comment on this post and let me know what "skinemies" are. Check out the "About Us" page at Sparklehearts to find out.
Entries will be accepted through May 10th and I'll pick the winner using Random.org. US readers are eligible. Only one entry/comment per person, please.


For an additional entry, post my button on your blog (see code on sidebar), follow my blog, fave me on Technorati or subscribe via email or subscribe via reader. Leave an extra comment letting me know what you did for each additional entry.
Make sure you leave an email address in your comment or that you have one accessible on your blog so you can be contacted if you win!
***Click
Giveaways
on my sidebar to see what else you could win!***
And don't forget this week is the big Give It Away Now Blog Carnival, too: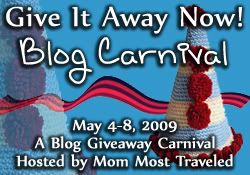 You have to be in it to win it, as they say...